---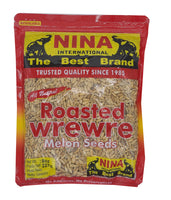 Roasted Wrewre (Melon Seeds) by Nina (0.5 lbs / 227g) by Nina.  You can make wrewre soup with the all natural product from Ghana. 
We have several volume discounts you can use. Simply enter the applicable discount code in the discount code box of the cart.
Discount Code

(Click the code below to add it to cart)

Product spend
Discount
Free Shipping

 8%off$60+

$60

8%

No

ShipFree

$120

0%
Free *

ShipFree&8%

$250

8%
Free *

$500

11%
Free *
 The volume discount above will be applied to all items in your cart.
* Free shipping applies to USPS priority mail 2-3 days shipping only not to UPS rates.
Offers / discounts cannot be combined.